1. What is Hubdoc and Receipt Bank?
Both platforms are tools designed to boost a business' productivity. Specifically, Hubdoc and ReceiptBank both take paperwork in all forms, and digitises them so they can be exported for use in your cloud accounting systems. Whether you want to scan the paperwork onto your computer or take a picture with your phone, Hubdoc and ReceiptBank both convert the information found on all documents into usable data. 
2. What are the pricing differences?
Hubdoc maintains a singular plan that is quoted at USD 20/month and offers no other plans. However, Hubdoc does not set limits for how many users a business can have utilizing this account. Alternatively, ReceiptBank offers a variety of plans to accommodate companies with varying numbers of users, and who require different features.
ReceiptBank's most basic plan starts at USD 10/month for businesses with a singular user, USD 20/month for businesses with up to five users, and a premium plan offered at USD 40/month for up to 20 users.
3. What are the features of both platforms?
Both Hubdoc and ReceiptBank have a variety of features and can integrate with numerous cloud platforms. We have compiled the standalone features on their respective platforms and compared them to each other below.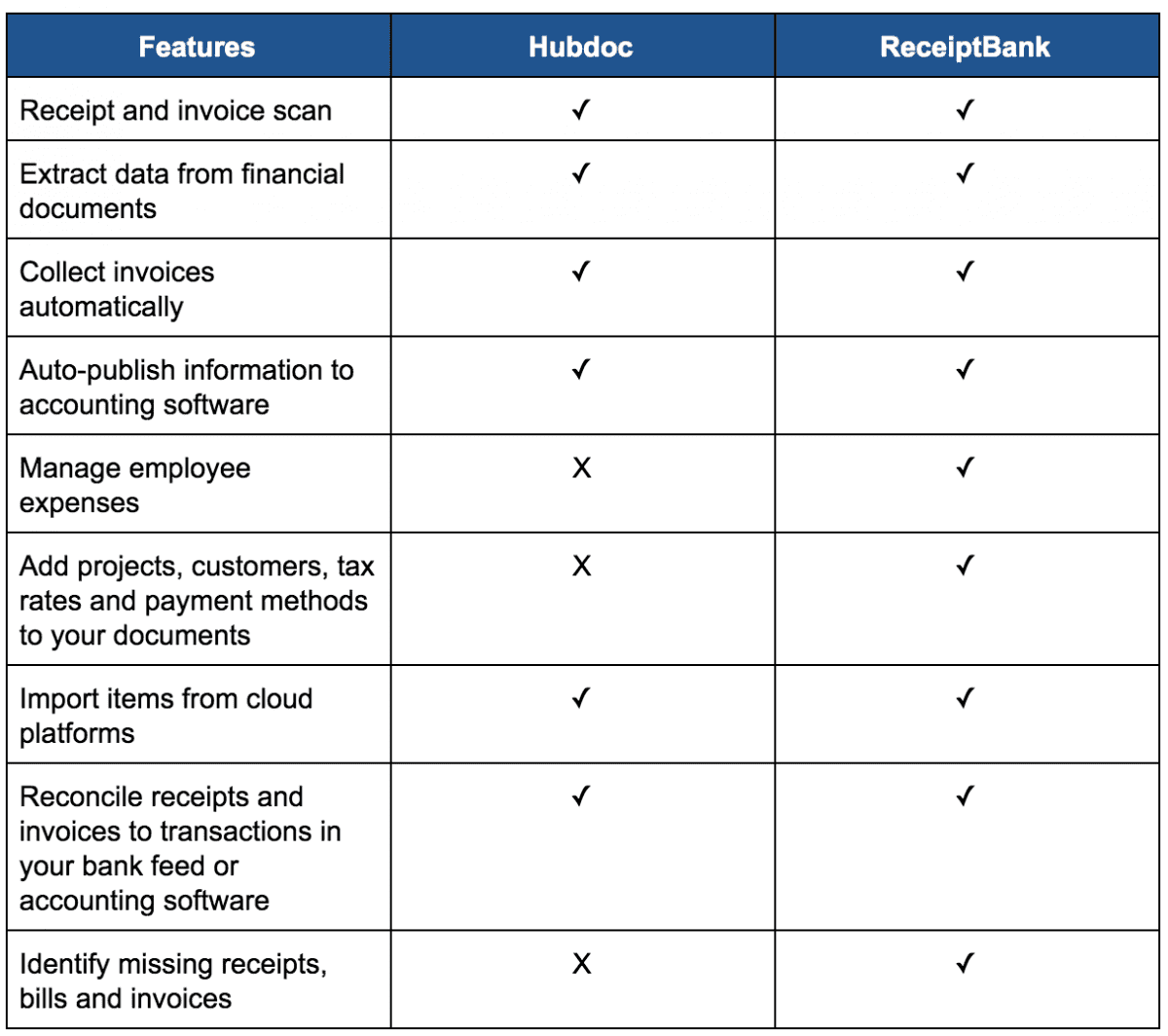 Both platforms help businesses reduce the time needed to track and manage their employee's expense claims. The intention for these platforms is to create efficiency by streamlining the entire process of document management and data inputting. While users of Hubdoc will not have as many features available as compared to ReceiptBank's most expensive plan, the trade-off is the cost, as mentioned above.
4. What support services can you expect to receive?
A key point of consideration when deciding on a cloud solution is the extent of support you can expect to receive if you encounter any difficulties using the platform. Hubdoc and ReceiptBank are both strong in this aspect, as they offer knowledge articles and the ability to contact support staff to help guide you through, and resolve issues you come across.
As one of Xero's most popular third-party app integrations, Hubdoc users can enjoy support services through Xero Central. Through here, users can not only start discussions with the community of other users, but can access various knowledge articles to find answers to commonly asked questions, and even get in touch with a Xero Support staff who can personally address your issues.
ReceiptBank also provides knowledge articles and access to support staff. However, the difference is that ReceiptBank's support channel is on their personal website, and not on Xero Central. This means that there is potentially a smaller pool of resources to rely on when trying to resolve issues. 
5. How easy are these platforms to use?
Both platforms are designed to facilitate efficiency and simplicity but most importantly, they are designed for flexibility. When converting documents into a digital format, both platforms allow information to be uploaded via phone or computer. With my features able to be automated, all users of either platform need to do is snap a photo of the documents with their respective app.
6. What cloud accounting platforms can they integrate with?
Both Hubdoc and ReceiptBank were not designed to be standalone applications. To maximize their effectiveness, they must be integrated into a cloud accounting solution such as Xero. For example, only by integrating with a cloud-accounting solution can companies automate the reconciliation of any invoices they upload through these platforms. 
Enhancing Your Cloud Accounting With FastLane
For businesses who want to streamline as many aspects of their internal operations as possible, cloud solutions are a must have. Given the manual processes traditionally involved in data input, Hubdoc and ReceiptBank are clearly useful tools that can strength cloud accounting platforms. 
For enquiries about the benefits of each platform, or for assistance in implementing these platforms for your business, please contact the FastLane Group for support. As a recognised D-Biz IT service provider, the FastLane Group is recognised to be, and qualified to help your business implement a variety of cloud solutions. In addition, engaging us to do so will qualify you for funding under the Hong Kong government's D-Biz program!