Efficiency is vital for all businesses. The last thing business owners should experience is a lack of efficiency as a result of handling time-consuming tasks. Of all tasks that take time away from essential business operations, credit control is among the most prominent. In this article, we look to introduce Chaser, one of the best credit control systems for SMEs. 
What You Will Learn
1. What is Chaser?
Chaser is a credit control application that helps businesses automate the task of chasing their customers for outstanding payments. Chaser gives its users tools to effectively automate the task of chasing customers outstanding payments. It further helps by giving users information and analytical tools to better decide which customers to grant credit to, and how best to chase customers on outstanding invoices.
2. Chaser Features
Chaser improves the process of following up on unpaid invoices in the following ways:
Customise email templates, saving time on having to write individual emails

Personalize your emails, making them seem like they were hand typed

Automate your emails to chase clients at times that best suits your customers

Provide data analytic tools that offers visibility on all communications a company has with their customers, providing information on how they can better make informed decisions

Sync with their accounting system or invoicing platform, providing greater transparency on the current situation of your unpaid invoices on all platforms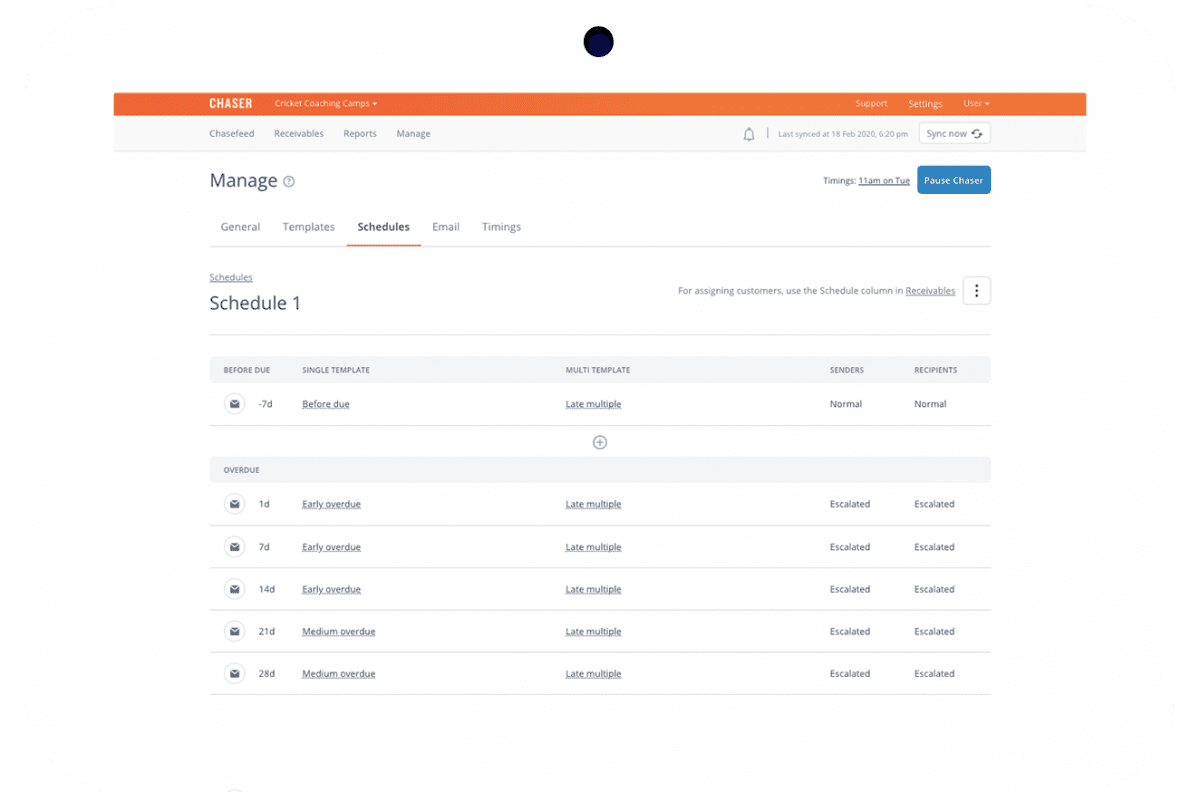 3. How Does Chaser Work?
Firstly, it is important to recognise that credit control software is not the same as invoicing software. Whereas invoicing software is a tool that automatically generates invoices for rendered services and products, credit control software is a tool that helps minimize the time spent chasing outstanding payments.
Credit control softwares helps businesses save time and improve their cash flows by minimizing the time your customers spend settling their invoices. Such softwares, like Chaser, do so by providing tools that help businesses effectively automate chasing their customers to pay their invoices. 
Chaser works primarily through the platform's ability to integrate with accounting systems or invoicing platforms, such as Xero. Doing so grants Chaser access to details on each of your customers and their respective sales invoices. Upon integration, users can then set up various email templates that can be sent to their customers regarding outstanding sales invoices. These templates can be autofilled by Chaser with relevant information, meaning that each email sent to clients will be specific to their individual details and their invoices. 
One of Chaser's core strengths is in its ability to fully automate this credit control process. With Chaser, users can set a schedule that automatically sends email reminders based on set reference points. At each of these reference points, Chaser will check with your accounting system or invoicing platform to see whether each relevant invoice remains unpaid. If it is unpaid, Chaser will then autofill chosen templates with information specific to each customer and their respective invoice and send the completed email to the relevant customer contact.
4. Why Should You Use Chaser?
Proper credit control is essential in helping a company remain financially healthy and tools like Chaser help achieve that. Not only is Chaser the preferred credit control system of choice, but its qualities make it stand out amongst its competitors.
Like most other credit control systems, Chaser provides businesses with records of all their lines of communication with their clients, in respect of all invoices sent. However, not only that, but the platform grants users the ability to add notes of any other credit control interactions with their customers. This means that users of Chaser will be able to access the complete credit control conversation with each customer within this platform. 
Chaser's also provides users with information that can be used for better credit control decisions. The platform will present users with customer payment habits / trends so that you can know empirically, which clients are good or bad at payments, letting you tailor your chasing methods accordingly. All this information can then be further analyzed to help Chaser users better plan on how best to approach their clients for unpaid invoices. 
5. How FastLane Can Help You With Chaser
For businesses who want to streamline as many aspects of their internal operations as possible, credit control systems are a must have. Given the manual processes traditionally involved in credit control, and the time required to complete these tasks, Chaser is clearly a useful tool that can make your company more efficient.
For enquiries about the benefits of Chaser, or for assistance in implementing this platform, please contact the FastLane Group for support. 
Specifically, we can assist in the following ways:
75% discount off your Chaser subscription (valid from now until 31 October 2020)

Assist with Chaser setup 

Implement Xero, a cloud-accounting system that can be integrated with Chaser