1. Decide on a Company Structure
As different company structures can offer varying benefits, it's important to consider if a certain company structure is most appropriate for your business plans. In Australia, proprietary companies are most often utilised. 
The Australian Securities & Investments Commissions ("ASIC") have compiled a comparative table of the varying company structures and their respective advantages and disadvantages.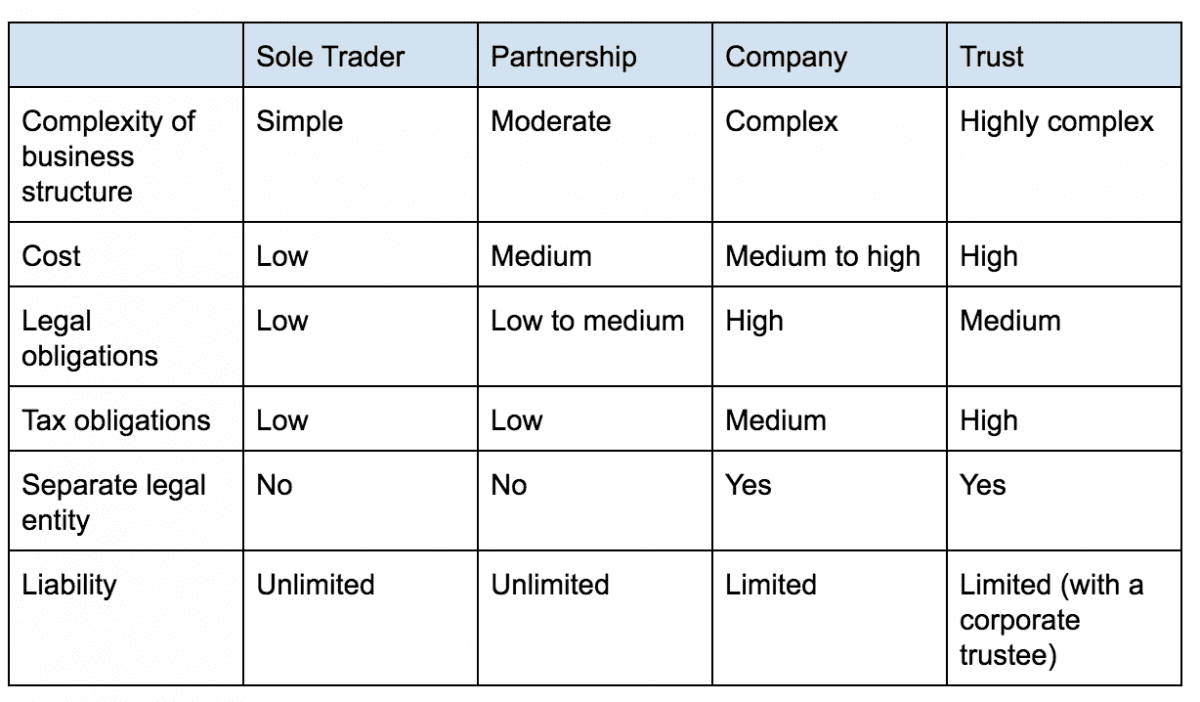 2. Decide on a Company Name
When setting up a company in Australia, applicants  must adhere to the following naming rules:
A company name cannot be identical to that of an existing company

Words that could mislead people on a company's activities are prohibited

Words that are considered offensive, or suggests illegal activities are prohibited

A company's name must show its legal status
In addition, certain terms are restricted and cannot be used without obtaining approval from an Australian government minister.
Those who would like to check on the availability of their desired company name, or would like to apply to reserve a name can do so online.
4. Choose a Registered Office Address and Principal Place of Business Address
In Australia, companies must utilize two addresses for the following purposes:
Registered Office Address
The address where all official communications and notices to the company will be sent

This address must be within Australia and cannot be a P.O. Box address
Principal Place of Business Address
A principal place of business address will convey where your company will conduct its business operations

This address cannot be a P.O. Box address
Foreigners looking to register a company in Australia may find it difficult to obtain a suitable Australian address, luckily it is possible to engage a professional service provider who can assist in this stage of the Australian company registration process.
5. Identify the Company Officeholders
In Australia, the positions of the company's officers consist of the company director and company secretary. Like many other countries, the individuals who will hold these positions within a company must be disclosed  in the company registration  application along with details of each individual's  personal particulars.
In addition, unless an individual has obtained consent from an Australian court, those who meet the following criteria are prohibited from acting as a company officeholder:
Individuals who are bankrupt at the time of application

Individuals subject to a personal insolvency agreement or composition under the Bankruptcy Act 1966
6. Decide on the Share Structure
When setting up a company in Australia , applicants will be requested to disclose details related to the share structure of their company. There are minimal laws that govern the type of share structures that are allowed and companies simply need to ensure that they issue at least one share to one shareholder.  
7. Obtain Consent from Company Officers, Members and Occupiers
The written consent of the company's officers, members and the occupiers of the registered office address must be obtained before  submission of the company's registration application. 
In respect of the occupier, to the extent that the company's registered office address does not belong to the company itself, the occupier must provide written consent, stating the company has received permission to utilize the address for business purposes.
It is not required to submit these documents to the local government authorities  when setting up a company in Australia. However, Australian companies are required to maintain a register to record details of the actions related to the company officers, members and occupiers. 
8. Submit Company Incorporation Application
The Australia company registration  application can be submitted in a variety of ways, allowing foreigners to complete the process with minimal complications. 
1. Online submission
Company registration applications can be completed online via the Australian Government's Business Registration Service ("BRS") website. 
Foreigners who are looking for a simple one-stop solution for their company incorporation needs can utilize this option as BRS combines several business and tax registration services on their website – this allows foreigners a comprehensive platform to make sure that they are complying with the various regulations set forth by the Australian government.
2. Professional service providers
Australia allows the use of professional service providers to assist in the company registration process. Foreigners who are unsure of the matters related to compliance can utilize these services to ensure that there are no potential delays to their application in the event of the omission of information or if the Australian government denies an application. 
3. Paper submission
Applicants who are not permitted to complete an online submission of their Australia company registration application must do so via paper. However, consent must be granted by the ASIC in order to proceed with this method. Parties interested in a paper submission should submit their requests to ASIC.
9. Other Considerations
Upon submitting a Australia company registration application, the BRS will provide the following upon a successful registration:
An Australian Company Number ("ACN"),

a unique nine-digit number issued to every company registered under the Commonwealth Corporations Act 2001

Confirmation that the company has been registered

A certificate of registration
Conclusion
The  process of setting up a company in Australia is relatively simple and straightforward as the rules are clear and the requirements are easy to meet. As such, foreigners should generally have no issues completing this process. The FastLane Group has extensive experience in helping our clients set up companies around the world. Please contact the FastLane Group for assistance!